1) Where is home for you?
I'm originally from Michigan and have previously lived in Florida, Texas, and Georgia. I've been in North Carolina for the past 10 years and consider it home. This is where I'm raising my three children and this is where we hope to stay when my husband retires from the military.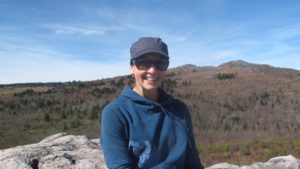 2) Where are you on your higher education path?
This August I will begin pursuing a Master of Environmental Management degree from Duke University's Nicholas School of the Environment. I already have completed a Master of Science in Oceanography from Texas A&M University and worked as an oceanographic researcher and water resource planner for almost 10 years. After military moves and time off to care for children, I am updating my skill set and hoping to refocus my career.
3) Why did you choose to work in the environmental field?
I grew up on a lake and spent a lot of time outdoors and in the water, developing a life long passion for protecting our natural environment. I feel like it is important to focus this passion into work that will provide future generations the same opportunities to enjoy the world around them.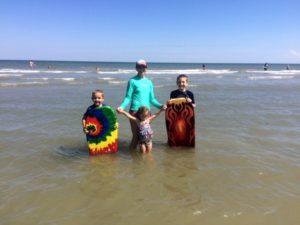 4) What are some of your fondest memories of being out in North Carolina's natural wonders?
I have truly enjoyed exploring North Carolina over the past ten years. From the Outer Banks to the mountains, it is a beautiful state. I have enjoyed sharing these natural wonders with my family and have many fond memories of camping trips, skiing, hiking, canoeing, and mountain biking. One goal for the future would be hiking more of the Appalachian Trail here in North Carolina.
5) What are your internship responsibilities this summer with the NC League of Conservation Voters (NCLCV)?
My work with NCLCV this summer is focused on developing curricula around the connection between climate and jobs for popular education training. The goal is to help dispel the notion that we need to choose between keeping and creating jobs or protecting the environment. Clean energy solutions will create many new and sustainable jobs. My responsibility this summer is to create persuasive education materials that will help stakeholders see climate protection as the road to a new, more just economy.
6) How do you see this opportunity as a Stanback intern affecting your future education and work?
My previous career has mainly been focused on field work and research projects, so this Stanback internship position is providing me with a much better grasp of how large-scale environmental policies are developed and shaped. I feel like this is an amazing opportunity to jumpstart my Master's degree program through real-life experience with a nonprofit organization and will help me to narrow down where I want to concentrate my graduate studies.