State health agency employees are distressed that their work is disrespected by their political bosses while Duke Energy wants to know who's releasing their 'secrets' to public view. This week in CIB:
Executive Watch: Davies Details Distressed Employees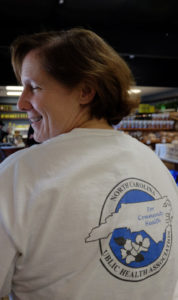 Former State Epidemiologist Megan Davies reports that other employees with the state health agency shared her distress with the actions of their political-level bosses "actively throwing public health under the bus" in the controversy over contaminated well water near Duke Energy coal ash pits.
In an interview with Rose Haban of North Carolina Health News, Davies went over details of the controversy that led to her resignation in protest from her position as State Epidemiologist. She discussed the adverse effects on staff and public confidence that resulted from the misleading public statements issued by political-level appointees in the state departments of Health and Human Services and Environmental Quality.
(The appointees in question were state Public Health Division Director Randall Williams and Department of Environmental Quality Assistant Secretary Tom Reeder, co-signers of an editorial criticizing the state toxicologist and—according to Davies—misrepresenting the process by which state toxic risk standards for water were developed. There's speculation that Williams and Reeder themselves were placed in front of the bus by even more senior administration officials.)
Through their inaccurate descriptions of State Toxicologist Kenneth Rudo's actions as a supposedly rogue or isolated scientist, those officials "were willing to completely undermine the credibility of the entire public health system in the state of North Carolina" for apparently political purposes, said Davies.
As a result, she said, "I heard from members of my staff and in other branches that they felt their professionalism had been impugned. They felt that the DHHS was saying we don't know what we're doing and they felt that they would not be safe making decisions to protect the public's health."
That's a chilling description of the state of affairs within the agency that North Carolinians rely upon for honest, science-based actions for the health and safety of themselves and their families. It places a bright red exclamation point on the urgency of changing the political leadership over that department, so that its conscientious staff can get back to their jobs of honestly protecting the public's health.
---
Judicial Watch: Duke Seeks Hearing on Press Report
Apparently, it just burns Duke Energy up when the public gets details that the utility's been trying to keep secret about state regulators' presentation of false reassurances to the owners of contaminated drinking water wells. Duke is so distressed that it is asking a federal judge to hold a hearing on who passed the information to the press.
Duke's attorneys assert that the information was improperly made public by lawyers for the Southern Environmental Law Center (SELC). SELC denies that accusation. No decision by the court on whether to hold a hearing or to allow reporters to be called to testify has been announced.
Duke claims that it's distressed that the public has gotten only "half the story", and the decision to make public the state toxicologist's deposition was not approved by the court. If that's Duke's real concern, it could easily instead ask the court to release whatever other information it deems needed to provide the full story. After all, hasn't it been Duke which has been fighting to keep information secret in this case?
It seems likelier to this observer that Duke's motivation is to intimidate those who might release or publish other materials in this or similar cases involving the utility giant. In doing so, it not only presents the image of a corporate bully using its powers to shut out public scrutiny. It also raises the uncomfortable question of what other damaging revelations may be yet to come.
That's a meaningful question when Duke's environmental problems are being regulated by an Administration headed by its former career employee, Pat McCrory. What else are Duke and the McCrory Administration hiding?
---
Washington Watch: Two New Federal Rules Target Climate Change
The Obama Administration has finalized new fuel-efficiency standards designed to reduce greenhouse gas emissions from large trucks, buses, and other heavy-duty vehicles.
According to the U.S. Environmental Protection Agency (EPA), these vehicles make up only five percent of highway traffic but are responsible for 20 percent of transportation-related fuel use and carbon emissions. EPA Administrator Gina McCarthy said that the "ambitious and achievable" new standards will "promote a new generation of cleaner, more fuel-efficient trucks."
Consumer and environmental groups praised the move. League of Conservation Voters (LCV) spokesperson Sara Chieffo called the rule "the most comprehensive effort ever to improve how far heavy-duty vehicles go on a gallon of diesel and to cut carbon pollution from these vehicles." She said that "these final heavy-duty truck fuel efficiency standards are another key piece of President Obama's climate leadership legacy."
Also this month, a federal Appeals Court has upheld the Obama Administration's practice of incorporating climate change costs into agency regulatory decisions. Under the upheld practice, federal agencies are required to incorporate the "social costs" of carbon emissions into their decisions. That means that they take estimated future damages from climate change into account when they calculate costs for rulemaking decisions.
The court's ruling came in a decision that combined similar issues from multiple cases, including the energy-efficiency standards issued for new refrigerators, by the U.S. Department of Energy in 2014.
---
Education & Resources: Tools for Teachers
Public school classes are starting again this week across the state and that means that teachers are once again in the market for good materials to bolster their lesson plans.
The EPA says, you're in luck: We've got downloadable lesson plans, activities, and other resources available for you online. They're grouped by grade range and free of charge. See here for the links. Materials can also be ordered here.
That's our report for this week.