March 11, 2019
Citizen Action: Support Ending Gerrymandering
Citizen Action: Support Ending Gerrymandering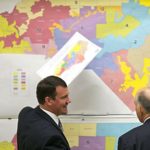 Want to show your support for establishing fair legislative districts? On March 28, two newly elected state representatives who support moving North Carolina to a nonpartisan redistricting process are hosting a gerrymandering town hall in Raleigh.
NCLCV's Conservation PAC endorsed Julie Von Haefen and Sydney Batch. NCLCV, Von Haefen, and Batch encourage political gerrymandering opponents to demonstrate public demand for change by turning out to this event. Click here for details and to RSVP.
North Carolina's current legislative and congressional districts are among the most politically skewed in the nation, meaning they are deliberately drawn to provide the maximum possible advantage to candidates of the majority party. NCLCV and other citizen environmental groups advocate for a nonpartisan redistricting process, so voters can hold their leaders accountable for their environmental actions. It is far more difficult to convince legislators to listen to their constituents when they know they will be heavily favored for re-election because their district is drawn to contain a disproportionate majority of their own party's voters.
Up next, Climate Deniers Target Schools >>
To get news like this in your inbox every Monday, please sign up for our Conservation Insider Bulletin newsletter!