State agencies were not kind to those trying to work for a cleaner environment last week. This week in CIB:
Legislative Watch: ERC Recommends Limiting Health Warnings on Contaminated Water
A key state legislative committee has recommended cutting back the authority of state environmental and health agencies to warn the public about possible toxic hazards in their drinking water. The Environmental Review Commission (ERC), composed of legislators appointed to review environmental issues between sessions and recommend legislation and further studies, included this recommendation in a package of proposals approved last week.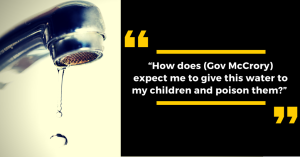 The move sets off alarms among some environmental advocates already concerned about toxic contaminants in well water. It comes on the heels of the recent reversal of health warnings previously issued to users of well water contaminated by carcinogenic hexavalent chromium. Advocates have contended that this and other contaminants in the wells originated from nearby Duke Energy coal ash pits.
In reversing their agencies' previous warnings to well owners not to use the contaminated water, upper management of the Department of Environmental Quality (DEQ) and the Department of Health and Human Services (DHHS) pointed to federal standards which they claimed weren't violated by the toxin levels found. However, environmental advocates assert that the agencies' overturning of earlier do-not-drink warnings appears to represent a politically motivated reversal of their own experts' conclusions on health risks.
The legislation recommended by the ERC would prohibit DEQ, DHHS, and other state agencies from issuing health warnings regarding a contaminant in well water or public drinking water unless it was found in excess of levels already specifically cited in federal or state drinking water standards. As part of the ERC's report, this newly recommended legislation is eligible for consideration in the short session beginning later this month.
In effect, the state's environmental and public health watchdogs would be muzzled from warning the at-risk public of any newly identified threat until it had completed the process of establishing a formal safety standard on either a permanent or interim basis. Such processes are notorious for their extended timelines and often face lengthy delays from legal challenges by special interests whose financial oxen have been gored.  
CIB notes that the technical language of the proposed legislation is complex, and that there has only been a short period of its public availability for analysis. Today's CIB report may be considered an early alert of a potentially serious problem.
Other recommendations from the ERC included studies on issues related to buffers around intermittent streams and on the effectiveness of nutrient management strategies, as well as legislation to limit the ability of the Division of Water Resources to mandate the use of on-site stormwater control measures. Each of those items represents a possible matter of concern to environmental quality advocates.
ne other item of news from the ERC was more positive. The ERC recommended further study of the state's recycling requirements for discarded computer equipment and televisions. In recommending further study to be reported to the 2017 legislative long session, the ERC declined to instead immediately endorse DEQ's recommendation that the state's entire electronics recycling program be repealed.
DEQ's report recommending that the recycling program be scrapped was just issued on April 1. It presented another instance of that agency under current management calling for doing away with an environmental protection rule that it decided was costing too much. With April fools like the current DEQ political leadership acting as friends, North Carolina's environment seems in no need of enemies. .
---
Executive Watch: DEQ Dumps Environmental Legal Team
Speaking of actions by the Department of Environmental Quality (DEQ): the agency notified the state Attorney General's office that it would terminate a contract with it for representation on regulatory work, which has included enforcement and permitting cases.
According to the Attorney General's office, that work has been carried out by nine lawyers and support staff working on DEQ matters. Robin Smith, an environmental attorney in private practice who has previously worked in both the Attorney General's office and what was at the time called the Department of Environment and Natural Resources, said that the contract between the agencies dates back at least 15 years through multiple administrations.
A spokesperson for DEQ asserted that the contract was being terminated because they could not count on the Attorney General's staff to "zealously represent" their interests. However, DEQ did not respond to requests for examples of cases in which the Attorney General interfered with DEQ cases. 
In an editorial published last week, the Raleigh News & Observer had this explanation: "DEQ, under the conservative and doctrinaire leadership of Secretary Donald van der Vaart, has decided to take its legal work in-house where it can better manage what its lawyers do—and don't do." The editorial concluded that the move was "consistent with a department that has sued the Environmental Protection Agency to block federal rules that promote cleaner air and water, but are opposed by polluters."
---
Administrative Watch: NCUC Hammers Non-Profit for Aiding Church
In a decision released Friday, the N.C. Utilities Commission (NCUC) ruled against the request of a nonprofit group for approval of its arrangement with a Greensboro church for financing a rooftop solar electricity system—and hit the group with about $60,000 in penalties for the effort.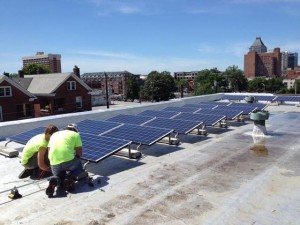 The clean energy group NC WARN has been engaged since last year in an attempt to win regulatory approval of its experiment in what is called third-party financing of a rooftop solar photovoltaic system for the Faith Community Church in Greensboro. Under the deal between the small non-profit institutions, NC WARN paid for the cost of installing the system. The church agreed to pay those costs over time via purchasing the electricity produced by the system. It's an arrangement intended to allow electricity consumers with limited financial means, such as the church, with a route for getting a solar system installed without paying those costs up front. From an environmental standpoint, this category of clean energy development gets more solar installed more quickly by opening up opportunities for such low-asset potential customers. The "third party" descriptor refers to a deal which involves electricity sales from a system installer (the "third party") to the customer, without having the electric power generated go through the public utility system grid. 
In its filing with the NCUC, NC WARN argued that North Carolina law should be interpreted to allow such arrangements. Its request was supported in the case by other organizations such as NC Interfaith Power & Light (a faith-based clean energy/environmental group) and NC Sustainable Energy Association. It was opposed by several electric utility organizations, the NCUC's Public Staff office, and Duke Energy. Duke asked that the NCUC not only deny the request, but also fine NC WARN $1,000 day for operating the system.
In its order issued Friday, the NCUC concluded that state law does not permit such "third party sales" arrangements, and ordered NC WARN to stop billing the church for electricity, refund all amounts paid along with 10% interest since payment, and give the system to the church. (NC WARN had offered in its initial presentation to donate the system to the church if their petition for approval of the third-party sales and financing arrangement was denied.) However, the NCUC order went further, and ordered NC WARN to pay a $200/day penalty for making the sales, retroactive to the beginning of the sales and continuing until they ceased. The extra fine would be "suspended" if NC WARN complied with the rest of the order, including that it "cease and desist any further attempt to provide electric service for compensation to any consumers in North Carolina" and "from advertising and promoting any facet of its solar program that contains as a factor the sale of electric power."
NC WARN issued a news release calculating the fine involved at approximately $60,000, and announcing that it would appeal NCUC's administrative ruling to the court system. 
---
Coast Watch: Offshore Wind May Be Picking Up
We close this week with a bit of good news for those who have concluded that the enormous energy potential of offshore wind needs to be part of our state's clean energy future. The federal Bureau of Ocean Energy Management (BOEM) expects to issue a proposed sale notice this summer for an auction of offshore wind development leases off the North Carolina coast.
BOEM is holding a meeting tomorrow (April 19) of its North Carolina renewable energy task force to discuss the auction. Five developers have already responded to a 2012 call for interest in the potential leasing.