After six years of lawsuits and construction delays, Dominion Energy and Duke Energy cancelled their plans for the contested Atlantic Coast Pipeline (ACP) on July 5, 2020 — a shocking win for environmental and social justice groups. The 42-inch-wide underground pipeline would have run 600 miles across the South, increasing quantities of natural gas transported to Virginia and North Carolina customers while threatening communities in its path.
Cheaper renewable energy prices and a global market decline for coal caused the energy industry to shift from reliance on coal to natural gas.
Delivering natural gas requires thousands of pipelines. The difference is the proposed ACP was significantly larger than most existing pipelines, and would have been the first to traverse the Appalachian Trail.
The ACP also would have crossed eight North Carolina counties, including citizens' private property.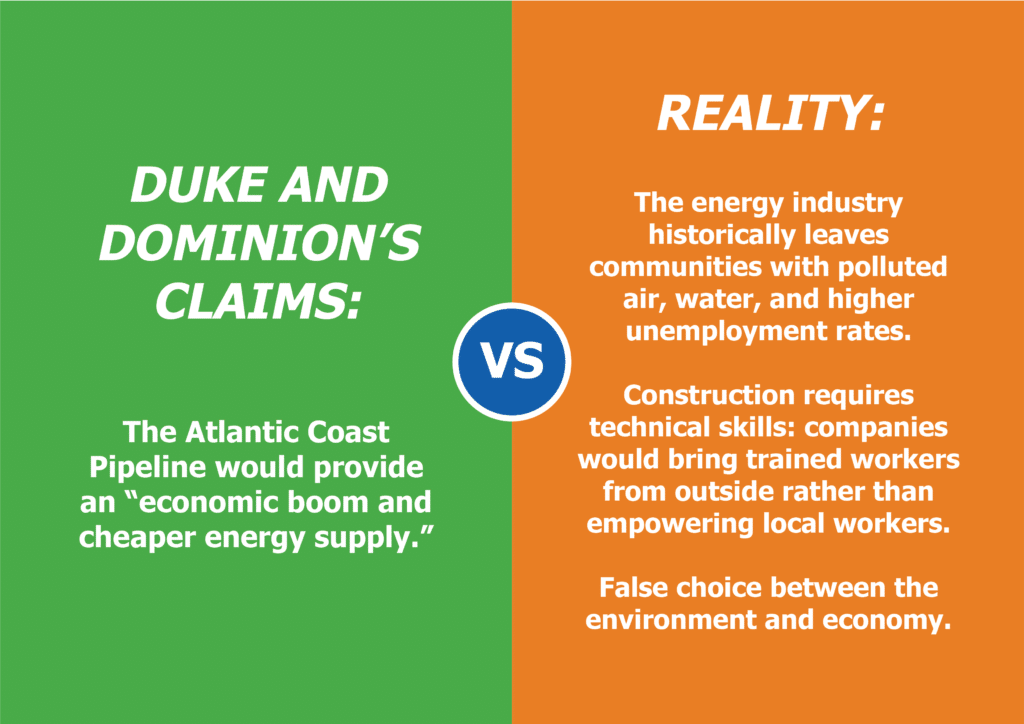 Duke and Dominion ultimately decided to cancel the pipeline, citing uncertainty, ongoing delays, and increased project costs from $5 billion to $8 billion. Outward forces influencing the decision included communities' lack of faith in energy company claims (see above) and the state government permit process, rising recognition of environmental justice, and a legislative shift toward renewable energy.
This cancellation led a series of pipeline defeats across the country. A federal court also halted the Dakota Access operations, and upheld a freeze on a key permit for the Keystone XL pipeline. These victories offer unprecedented opportunity to expand solar, wind, and other renewables. We need state-level policy changes and advocacy against energy monopolies to ensure a future with equitable, affordable, and Clean Energy for All.