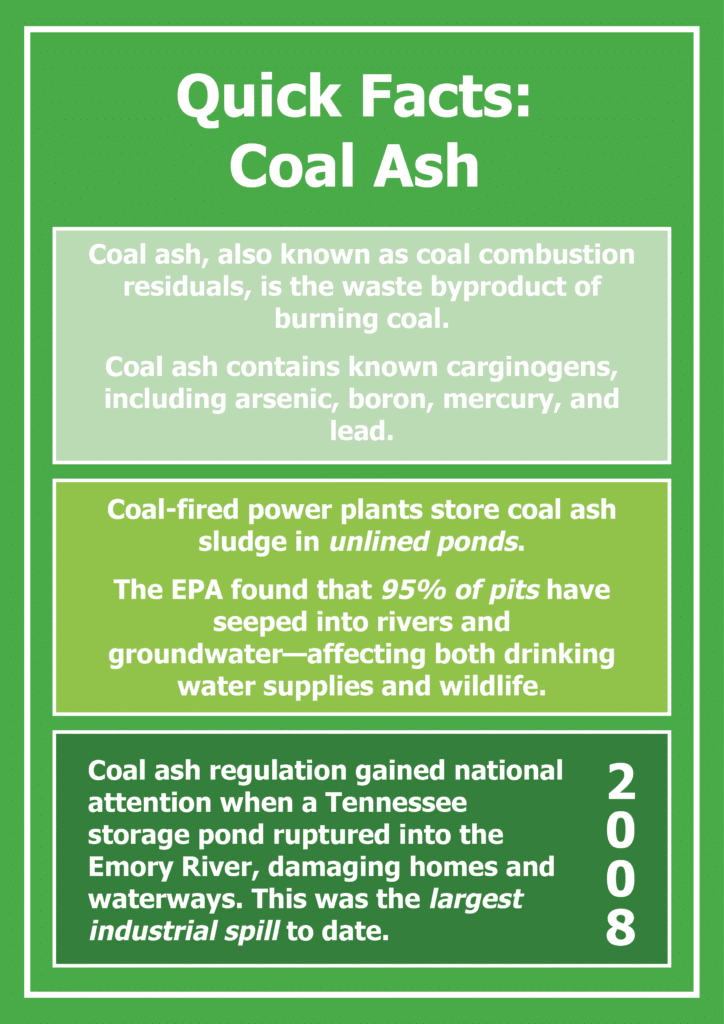 Coal Ash in North Carolina: DEQ vs. Duke Energy
In 2013, DEQ filed four lawsuits alleging unlawful discharges and groundwater contamination at all 14 Duke Energy facilities in North Carolina. Two major coal ash spills occurred in North Carolina thereafter, both at coal ash containment sites owned by Duke Energy: tens of thousands of tons spilled into the Dan River in 2014 and again into the Cape Fear River in 2018. These disasters brought national attention to Duke Energy's mishandling of coal ash ponds. Lawmakers passed the Coal Ash Management Act (CAMA) of 2014 and again in 2016 to establish cleanup protocols and DEQ risk assessments of the 33 ash ponds at Duke Energy's 14 plants.
A Win for DEQ
In April 2019, after a series of settlement proposals, public hearings, and appeals, DEQ ordered Duke Energy to excavate all their remaining coal ash ponds in North Carolina. On December 31, 2019, a state court approved a settlement agreement to move more than 80 million tons of toxic ash to lined landfills, securing the largest coal ash excavation in U.S. history.
Looking Forward
Under CAMA, Duke submitted closure plans for excavations at the Allen, Belews Creek, Cliffside, Marshall, Mayo, and Roxboro sites in late 2019, and public comments were heard in February 2020. DEQ is currently evaluating revisions from April 2020, and their final action on the closure plans will be due 120 days after deeming each plan complete. Duke Energy must implement these plans within 60 days of DEQ approval.
In 2019, we advocated against Senate Bill 559, better known as the Duke Energy rate hike bill, which would have increased Duke's annual profits by at least $100 million, while burdening consumers with the cost of cleaning up coal ash. With the strength of you, our members, we helped block this bill.