PFAS contamination made headlines in 2017 with the discovery of GenX in the Cape Fear River basin near Wilmington, originating from Chemours' Bladen County plant near Fayetteville. Since then, contamination by other PFAS "forever chemicals" continues to come to light throughout the state. These chemicals are pervasive in our environment and in our bodies. And there is no national or state health standard regulating them and protecting our health.
According to the Department of Health and Human Services, per- and polyfluoroalkyl substances (PFAS) are a group of manmade chemicals that date back to the 1950s. They are typically used to make products resistant to stains, grease, and water. Of the PFAS group, GenX is potentially the most dangerous and has been detected throughout North Carolina's waters.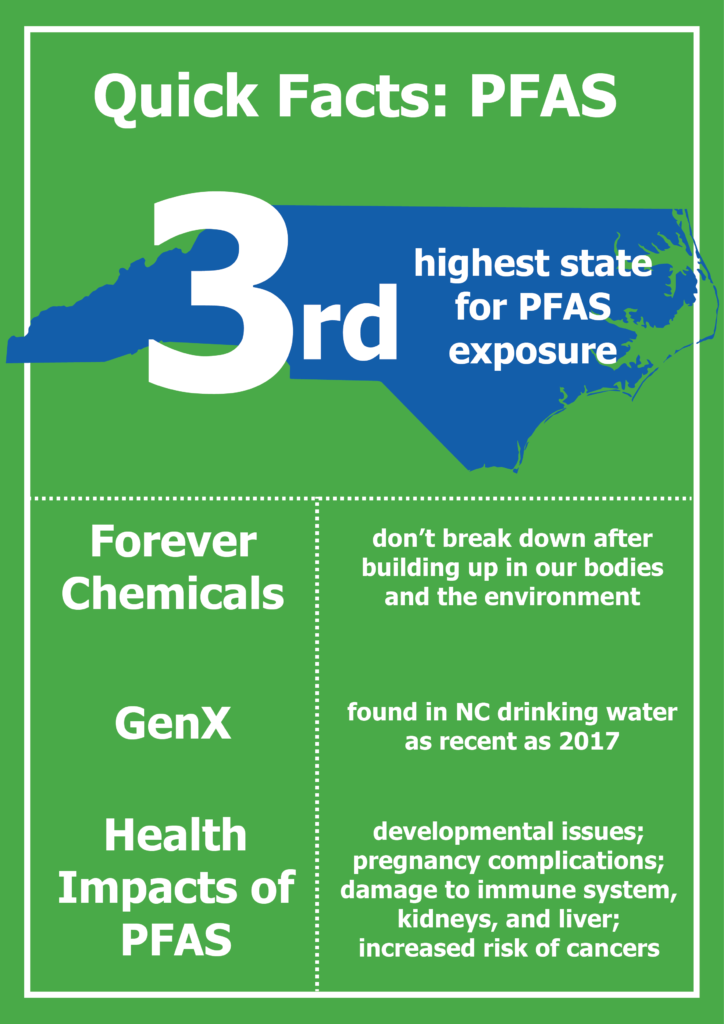 In July 2020, Gov. Cooper signed the Waste/Wastewater Public Enterprise Reform Act, which includes provisions that reallocate unused appropriations for the PFAS Recovery Fund to counties, for local water quality activities and other PFAS responses. The bill passed the General Assembly unanimously, but that didn't stop some elected officials from voicing their concerns over not devoting the entirety of the fund to PFAS and GenX cleanup.
With the General Assembly's DEQ budget cuts gutting seven water quality positions at the agency, we can expect PFAS and other contaminants to continue rising if this issue is not addressed comprehensively. Ultimately, it will require the federal Environmental Protection Agency to set a national health standard for the full class of PFAS so that they and states can protect us from the chemicals' health impacts, including various types of cancers and birth defects.