The Department of Environmental Quality (DEQ) is the state's agency dedicated to "providing science-based environmental stewardship for the health and prosperity of ALL North Carolinians." DEQ is well-known for monitoring polluters and enforcing regulations to protect our water and air. That is, if they are adequately funded. But for the last decade, the General Assembly has cut its budget in ways that threaten this mission.
Despite Gov. Cooper's explicit support of the environment for the last four of those years, his power to propose and veto budgets has not usually resulted in ideal funding or outcomes because the General Assembly has much more power to control the purse strings, especially before Gov. Cooper's allies pierced the anti-environmental supermajority after the 2018 election.
The General Assembly's budget cuts have hindered the agency's ability to perform at its highest capacity. In 2019, Gov. Cooper asked for another $6.3 million for DEQ, enough for 37 new positions and some equipment purchases. The General Assembly approved only $600,000 in new funding, including only five new positions. This amount was a far cry from Gov. Cooper's original ask, and he ultimately vetoed this proposal over issues unrelated to the environment.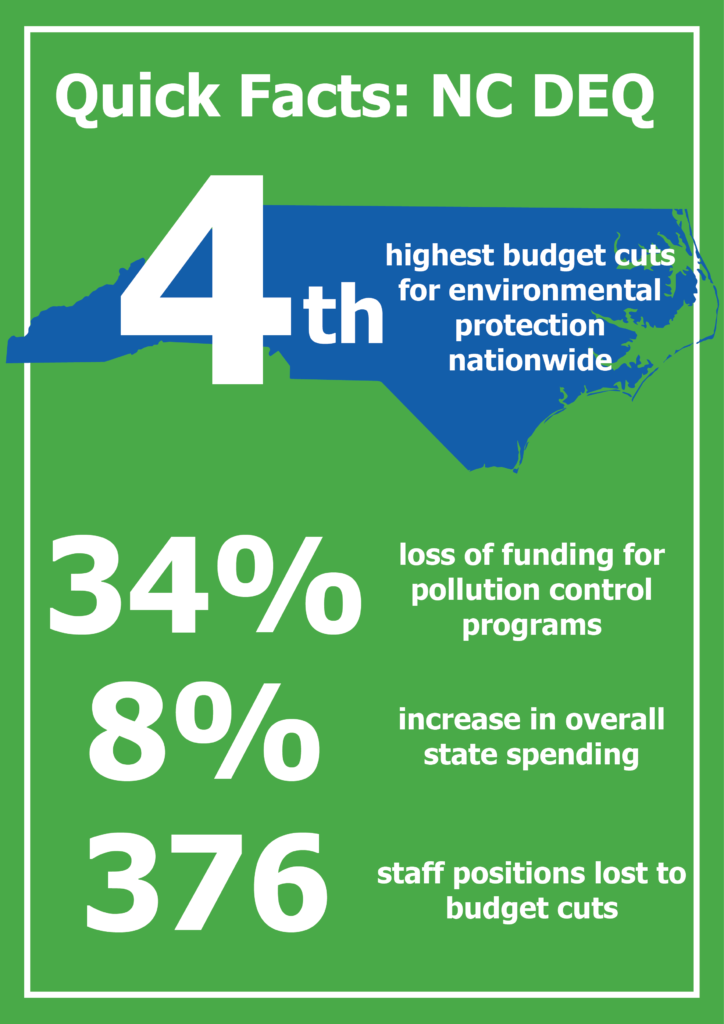 The General Assembly must reinvest in DEQ to address growing environmental threats, especially because storm surges and flooding, associated with extreme weather and climate change, disproportionately impact North Carolina as a coastal state. Funding cuts have prevented the agency from adequately monitoring crucial issues including hog waste, GenX toxins in the Cape Fear River and elsewhere, and other hazardous chemicals. When major natural disasters strike, inadequate pollution control preparation measures can lead to toxic spills and air pollution releases. Although a regulatory reform bill passed the General Assembly in 2020, granting some of the agency's wishes, we cannot expect to have a clean environment without allocating more resources to DEQ.